Welcome to the SCS Trees Blog Page!
Please click on any of the article titles below to learn more about us.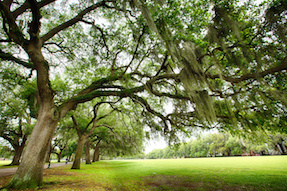 The native oaks that grow in our region require truly special care. Their roots share soil with the fungus Amillaria. This fungus lives off of oak roots. In some regions, this particular fungus will remain dormant during hot, dry weather, but it experiences a resurgence when winter rains arrive.
During the dry months, these Woodstock Oak Trees do not need or tolerate irrigation. If irrigation is applied near their trunks, the Amillaria will grow as a result of the warmth and water. While the tree continues to mature, any continued watering around the trunk will foster the fungal infection and this, in turn, will cause the tree to die.
If the tree does not die, it could still fall over because of having too few roots to secure it from top to bottom. This would pose a serious hazard to anyone near the tree. Here are additional steps to take to care for native oaks:
read more